Nuclei Colony Orders-2024
As registered Ontario Queen Breeders and members of both the Ontario Resistant Honey Bee Selection Program (ORHBS) and the Ontario LOW VARROA GROWTH (LVG) project our team of apiarists produces locally adapted queens each week that are bred from our gentle hygienically & LVG tested and overwintered stock.
Our team focuses our breeding on honey production, gentleness, varroa resistance and hygienic behavior. Our main queen breading yard is part of the LVG project conducted by the Ontario Tech-Transfer Program (TTP). Our stock is proven extra hardy as our breeding yard is located on the top of a hill on the OakRidges Moraine in a very windy location. Temperatures and wind speeds in our bee yard are much more extreme than most other parts of Southern Ontario. This means that Circling Hawk Queens that survive the windy winters on our farm need to be extra hardy!
Select the date you will be picking up your Nuc below. Pay a deposit via e-Transfer to hold your order.
2024 Pricing is as follows:
4 Deep Frame Nucleus Hive with a 2024 Queen from our hardy Circling Hawk ORHBS stock are $275 ea. Pay only $100 now (non refundable)
4 Deep Frame Nucleus Hive with a 2024 imported Italian queen (from California) are $250 ea. Pay only $100 now (non refundable)
Circling Hawk ORHBS Queens $60 ea
Our Apiary's' are inspected by an Ontario Apiary Inspector and our bees are approved for sale. Our Queen Nuc Permit
If you do not show up on the date you select when leaving your deposit, your deposit is forfeit and you loose your Nuc.
Fill out the form below to order and pay via email transfer.
If you have ordered bees they must picked from our Richmond Hill farm at 7:30 pm.
Please do not come to the farm to pickup bees without pre-ordering your bees. Pickup time is 7:30 pm
No refunds on nucs, exchange only.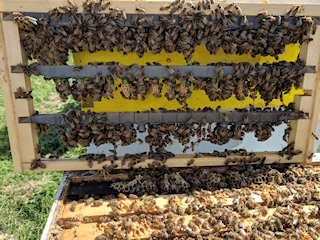 Order Nuclei colonies below. A Nuclei includes 4 frames of Bees, Pollen, Honey, Brood, and a Laying Queen. It is a functioning colony.